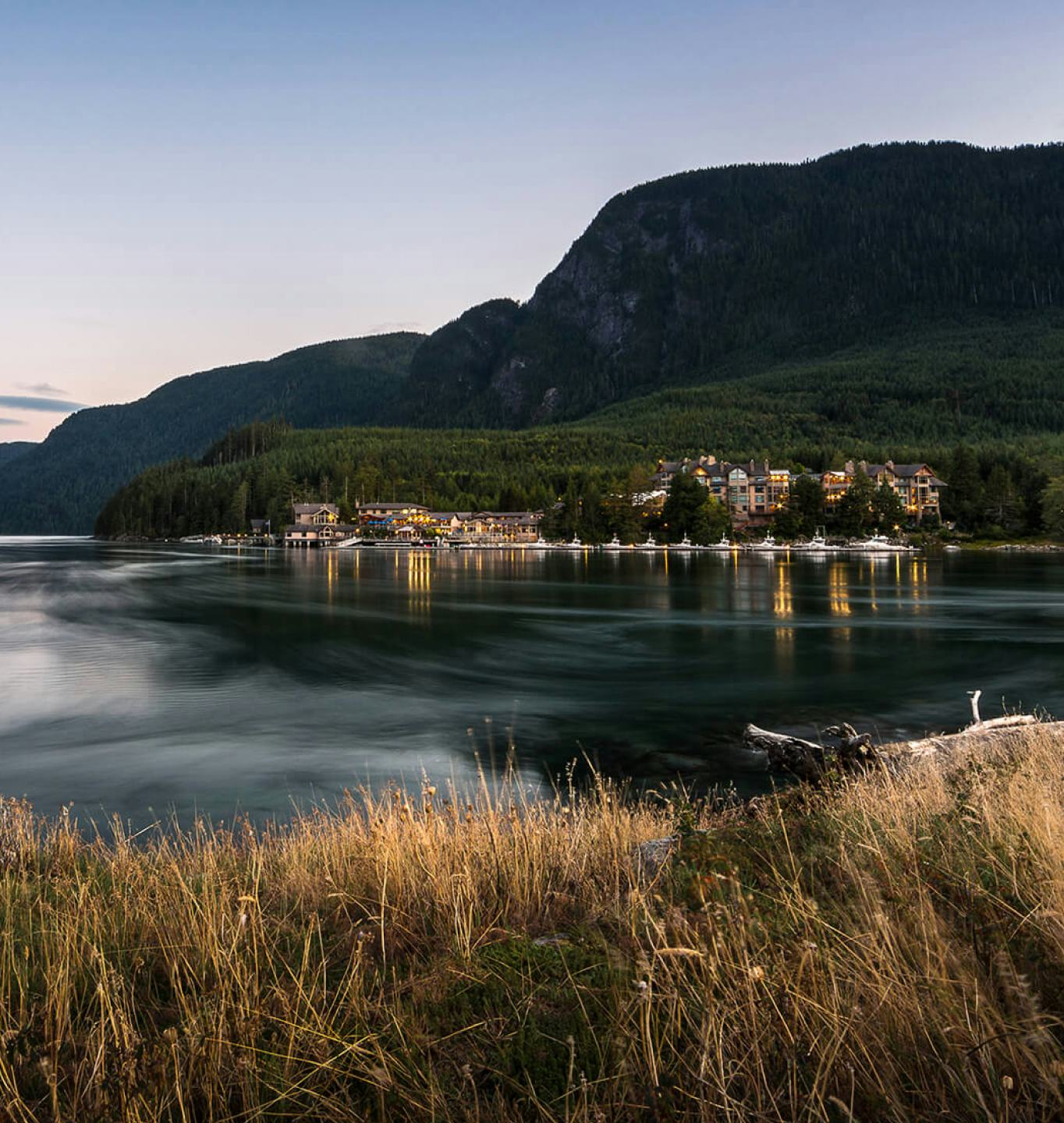 Sonora Resort
Nestled within the breathtaking Discovery Islands archipelago, Sonora Resort stands as a beacon of opulent comfort amidst Canada's pristine and alluring environment. Sonora Resort has been welcoming guests for nearly four decades, evolving from a rustic fishing lodge established in 1979 into a world-renowned luxury wilderness destination. 
Sonora Resort recruited VentureWeb to showcase its wilderness location and eco-experiences and in 2022 VentureWeb completed a long overdue update to the Website experience that focused on: 
Elevating the brand and experience
Showcasing the cuisine and fine dining experiences
Highlighting the many accommodation options available
Showcasing the amazing staff with an emphasis on employee culture
Turning lookers into bookers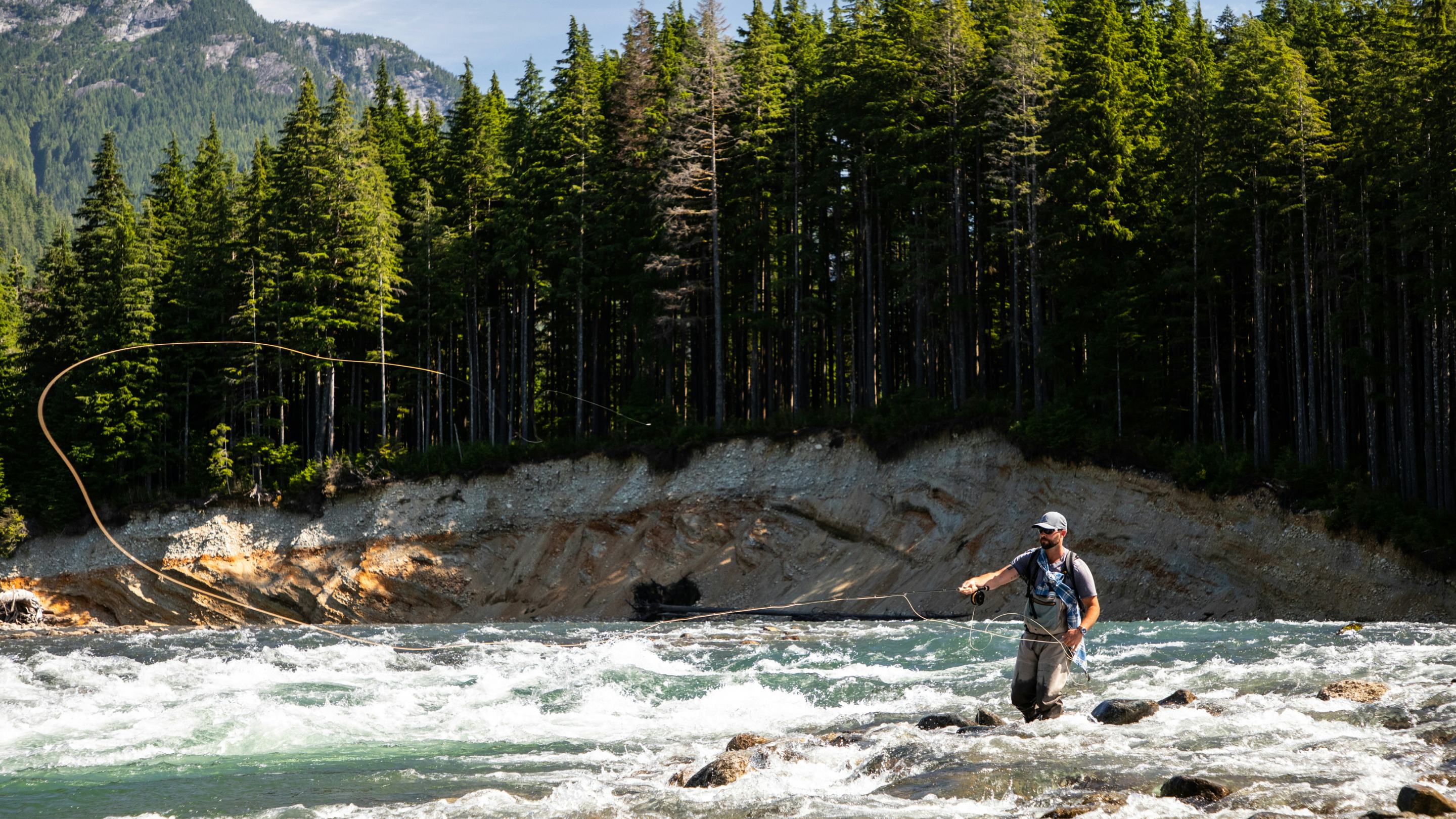 The challenge
Our challenge was to develop and implement an immersive experience that would effectively showcase the allure of Sonora Resort's secluded wilderness location with the essence of a Relais & Châteaux designation.
We needed a visually stunning platform that would captivate visitors, communicate the resort's story and values, then entice them to embark on an unforgettable journey of exploration and relaxation.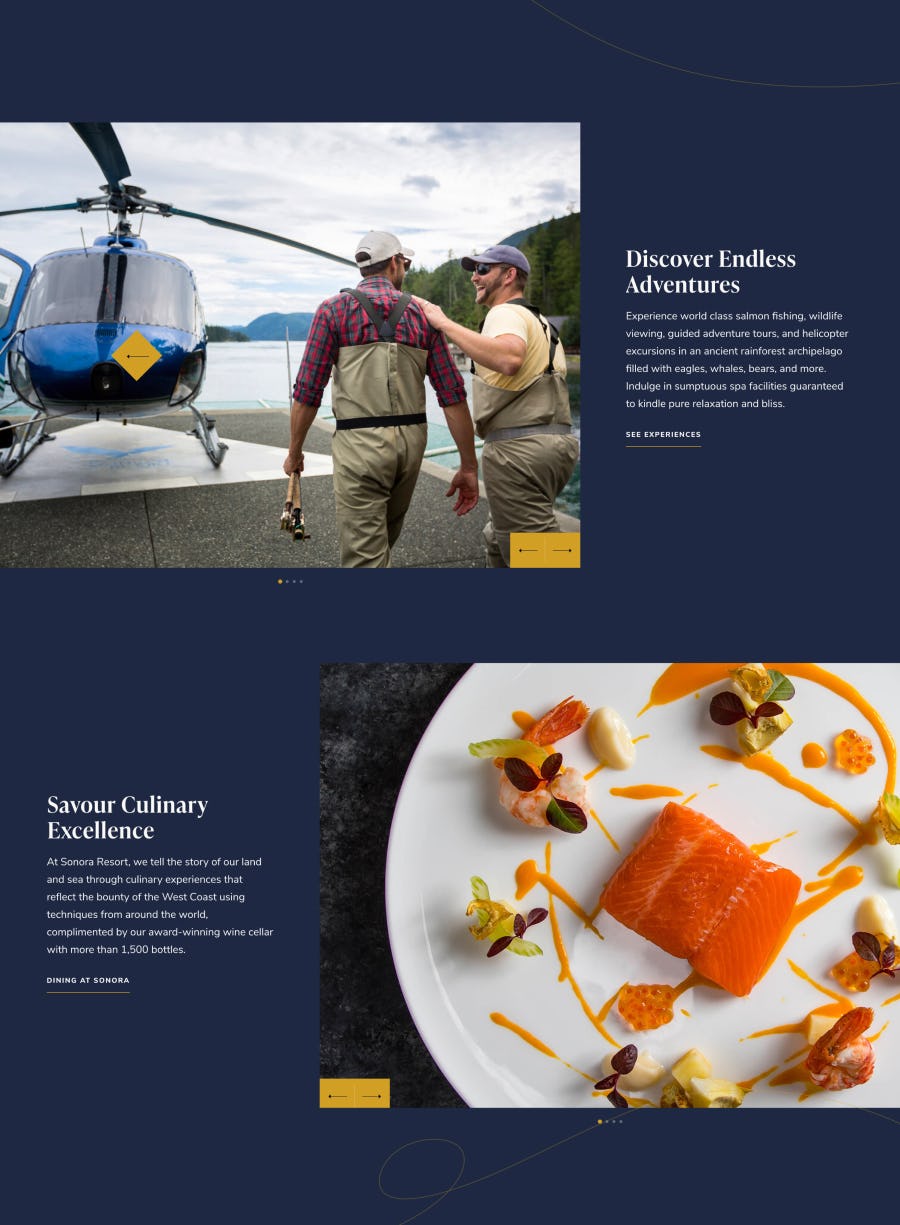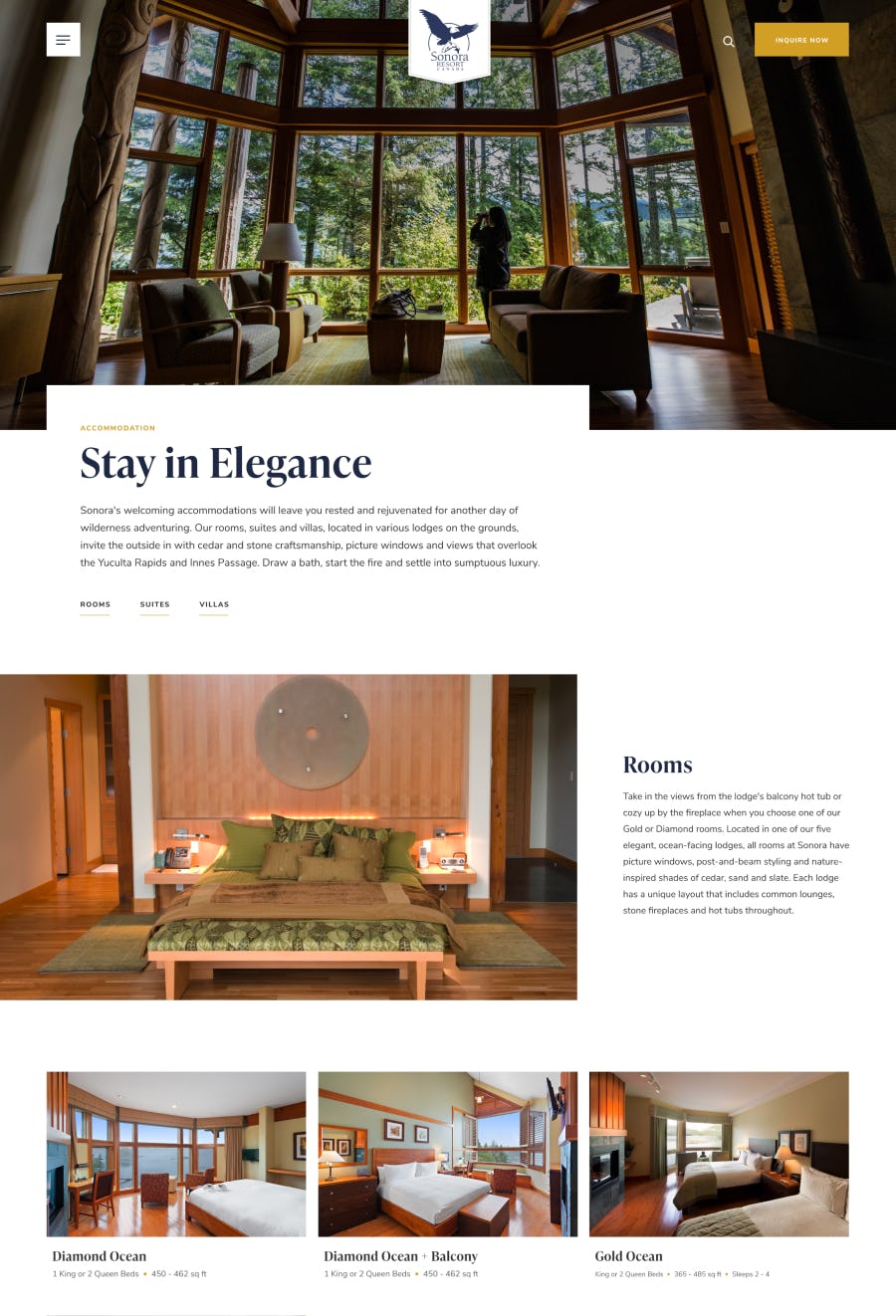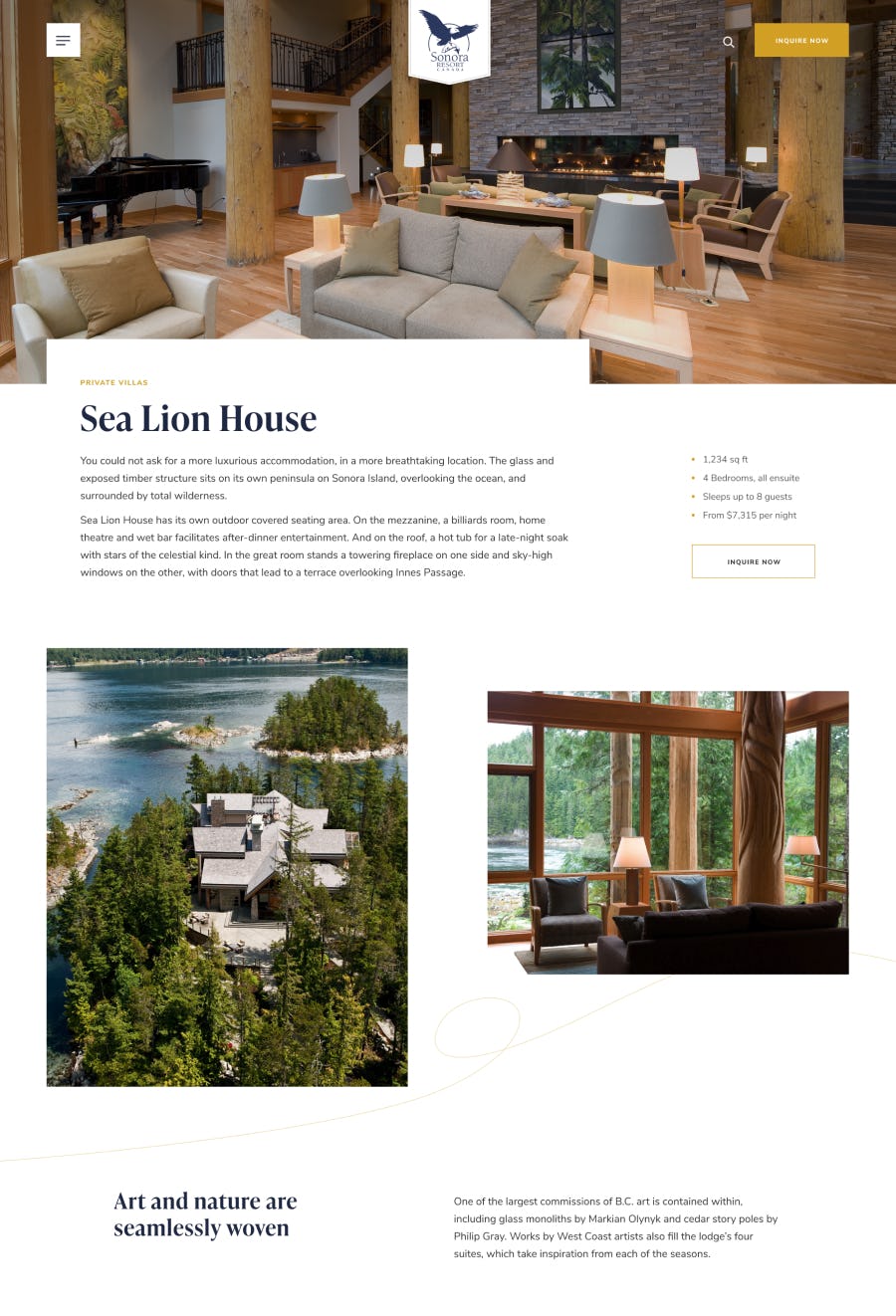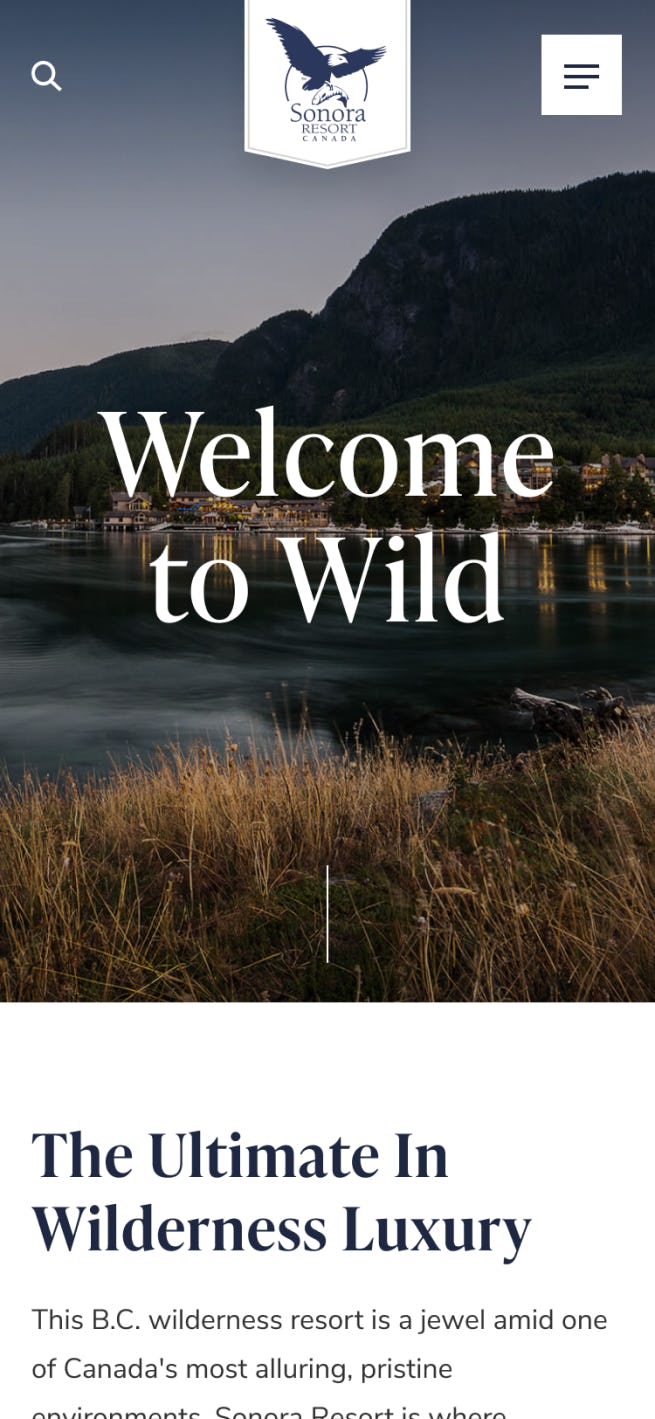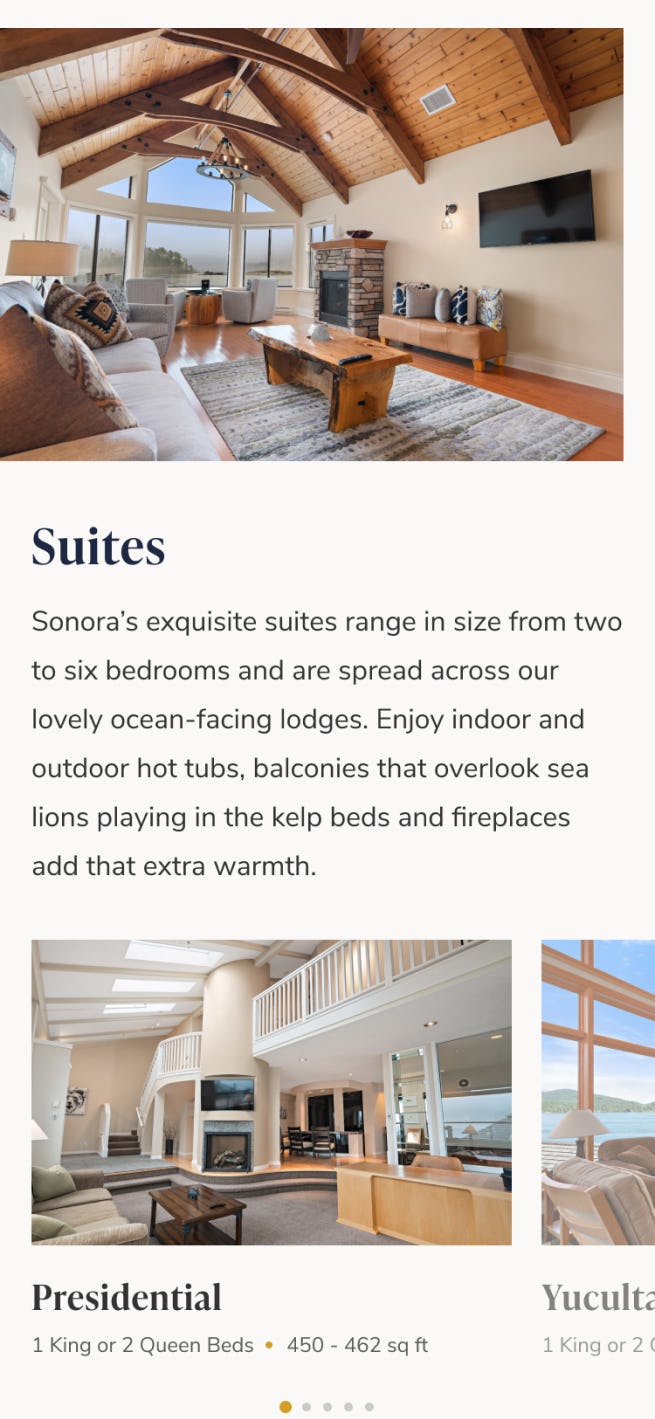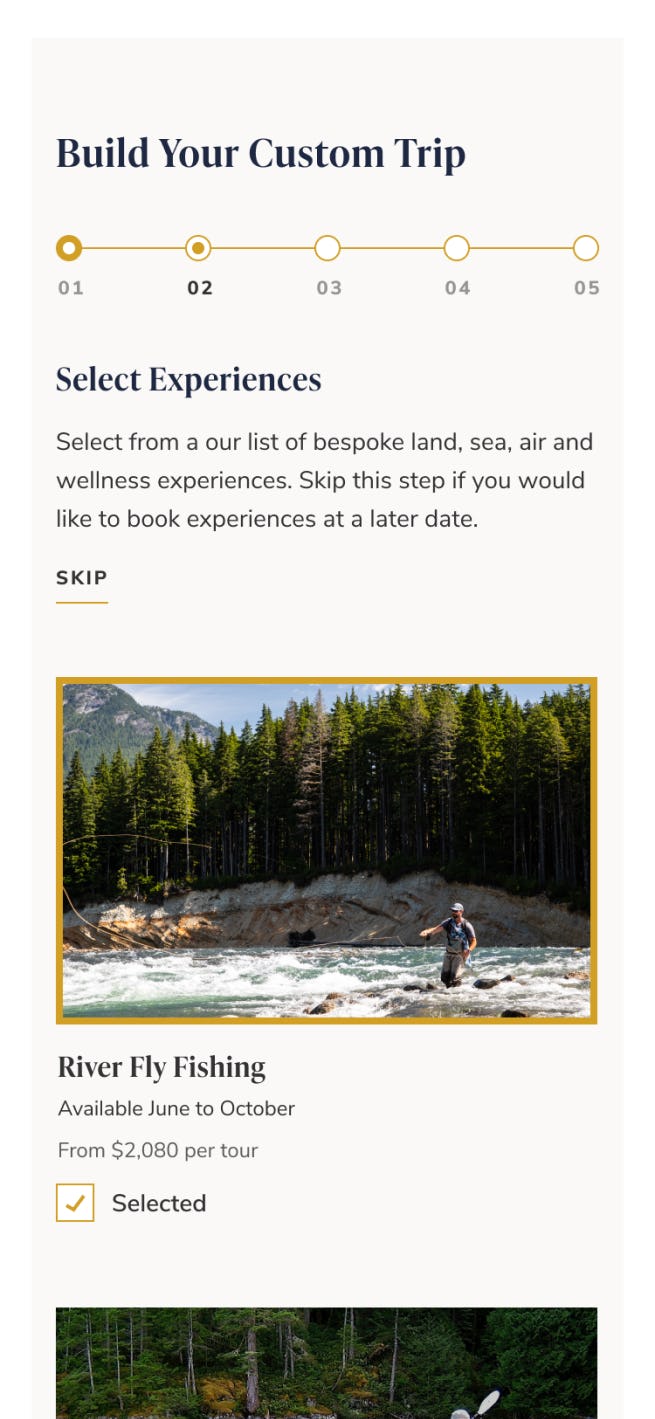 Our solution
To tackle the challenge at hand, we employed a comprehensive set of solutions aimed at creating an immersive, informative, and visually captivating website experience for Sonora Resort:
Visual storytelling of coastal splendor
We embraced the beauty of Sonora Resort's natural surroundings and incorporated captivating visuals throughout the website. High-resolution imagery, interactive galleries, and videos showcased the mesmerizing landscapes, diverse wildlife, and pristine coastal waters. By immersing visitors in the resort's stunning surroundings, we aimed to evoke a sense of wonder and intrigue.
Showcasing the evolution of luxury
We crafted a dedicated section that chronicles the transformation of Sonora Resort from its humble beginnings as a rustic fishing lodge to its current status as a world-renowned luxury wilderness destination. Through captivating storytelling, archival photos, and engaging narratives, we aimed to highlight the rich history, impeccable service, and unparalleled comfort that define the Sonora experience.
Relais & Châteaux excellence
To celebrate Sonora Resort's affiliation with Relais & Châteaux, we developed a section that emphasized the culinary excellence, unique dining experiences, and commitment to sustainability. Through vivid imagery, profiles of renowned chefs and restaurateurs, and descriptions of farm-to-table practices, we aimed to showcase the resort's commitment to culinary innovation and unforgettable dining experiences.
Frictionless user experience
We prioritized a seamless user experience by implementing intuitive navigation, responsive design, and streamlined access to information. Users could easily explore the resort's accommodations, amenities, activities, and spa offerings, allowing them to envision their ideal Sonora experience. Interactive maps, booking capabilities, and informative itineraries further enhanced user engagement and convenience.
Our collaboration with Sonora Resort resulted in an immersive website that effectively communicated the allure of the coastal wilderness, the evolution of the resort, and the exquisite experiences offered. The website became a gateway for visitors to embark on their own transformative journey of exploration and luxury at Sonora Resort.
A big thank you to the VentureWeb team for your hard work on the website project. The site is live, re-indexed, and looking great. Amazing results – traffic, conversions & revenue. My sincere thanks for your efforts.
Services
5-star service for a 5-star getaway experience.
Since 2014 VW has been supporting Sonora Resort with the following services:
Strategy

Strategic planning leadership
Destination strategy & development
Content strategy

Creative & Design

Wireframing Information Architecture
Creative design & direction
UI & interaction design
Copywriting, photography & video

Technology

Custom CMS development
Custom web development
Booking & reservations system integration
CRM integrations
Ongoing site enhancements and support

Growth

Search engine optimization
Social marketing
Data & analytics configuration
Email marketing & CRM
Google Analytics 4 configuration
Related Work
Since life is short and the world is wide, the sooner you start exploring it, the better.